How to Better Market Your Local Business Online
The pandemic forced everyone to get an online presence.
Now most businesses have a website and some form of social media if they didn't before. That's great!
What are you doing with it?
How do you get everyone to know you exist online and not have all the effort you put in while we were all closed go to waste?
I'm here to show you how to grow your online presence locally because you don't want people to just find you anywhere.
You're a local business servicing a local audience.
You don't want to rank in another province or even in the US. (I mean… depending on your business maybe you want to, but then this is not going to be as useful to you)
I'm here to talk to local businesses wanting to increase their local presence so they get more customers, more brand recognition, more longevity.
Let's get started.
The power of being online
Most business owners know that being online is important now… but do you really know why?
Let's look at some statistics to show you just how powerful having a strong online presence means:
In a survey released by Statista on January 2019, it showed that 89% of people who use the internet, use it at least everyday for personal reasons including shopping.
This means that almost everyone with an internet connection or a smartphone has the potential of finding your business and purchase something from you because of it.
Think about what you do personally when you go on the internet.
Yeah you are looking for entertainment and cat videos, but you are also researching, finding a product or service that you need, looking at reviews. You are finding information about something or someone, whether that's social media or a company website.
And most Canadians are doing this every. single. day.
In 2018, the share of Canadians aged 15 and older who used the Internet was 91%, with 71% of seniors reporting at least some internet use. [Source: Statistics Canada]
So 91% of Canadians use the internet, even seniors… and 89% of those use it everyday.
What other kind of medium has that much reach and that much opportunity?
Now let's look at how what devices Canadians are using the most when going online:
87% of Canadians made an online purchase in 2019, and they used at least one of the above devices to do so. [Source: CIRA]
This graph can help you make decisions on the type of content you want to create based on who you are targeting and what you are using. This could prove useful when deciding if you want to run ads and where.
Remember, just because 51% of us still use a computer to get online, that doesn't mean it's for every channel.
Certain social media platforms are primarily used on a phone, like Instagram or Tik Tok. You will never reach anybody there if you're not creating mobile friendly results.
Speaking of social media…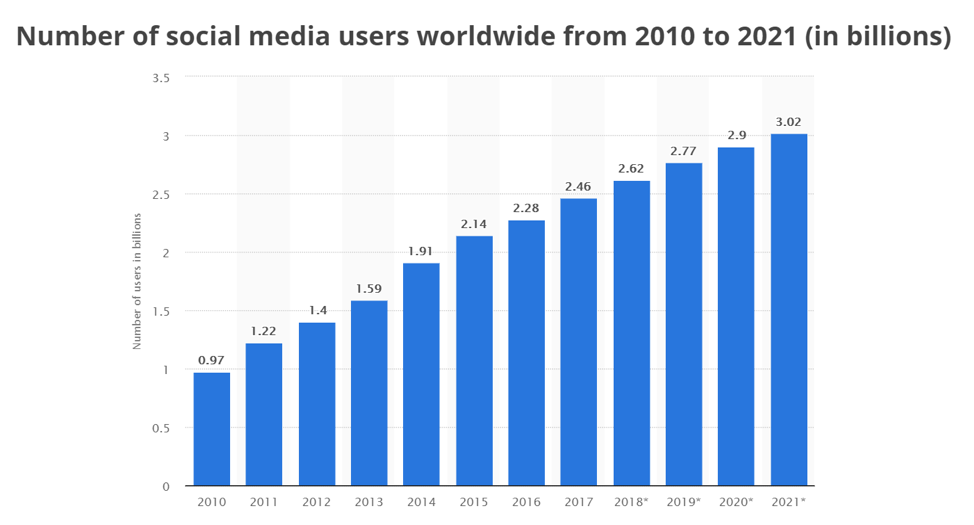 In 2019, an estimated 2.95 billion people were using social media worldwide, a number projected to increase to almost 3.43 billion in 2023. [Source: Statista]
There is an enormous amount of people using social media everywhere.
Having a large following and direct access to potential customers can be huge for your business. It doesn't matter what you offer, chances are most of your clients are on at least one social media platform.
This means that your potential audience and clientele can grow to a whole new level by being on social media, but you are not the only business vying for that level of attention…
How the pandemic changed everything
Digital marketing became even more relevant when the pandemic hit.
The only way for many businesses to survive was to restructure and put their business online as quickly as possible.
People couldn't meet anymore, so everyone started using Zoom or Google Meet.
Whether you liked it or not, everyone learned to be online. That changed the whole landscape.
Internet traffic grew by more than 40% between Feb. 1 and April 19, with almost all of that increase occurring in March and April. [Source: CTV News]
This doesn't come as a surprise really, but it's telling how the world will cope with COVID until a vaccine comes out. It is more important now to be online and offer your products and services where people are at.
Social network usage also saw an increase overall of 26.7%. [Source: Trust Insights]
If you take into account the previous statistic that 2.95 billion people use social networks, this is a very significant change of time spent using social media.
The biggest social media platform right now? YouTube.
It surpassed Facebook and it is not letting go of the viewers it acquired over the pandemic.
In terms of what that means to you, more people are preferring to consume content in a video format.
This pandemic is still happening, people are still trying to collect data and make sense of it all. Nobody knows just how deep these changes will be to us. New reports and insights are coming out every day.
One thing is for sure — being online is hugely important.
Finding the right people online
Before we even begin to talk about online tactics to bring local people to your website and/or social media, you should be aware that the internet is a wide open field.
Everyone is in competition with each other over the same thing… someone's attention.
You are trying to find people that are willing to become your clients, people that care or need a product or service like yours.
In that essence, your target market cannot be everyone. If you market to everyone, your marketing becomes thin in value. We will talk about this in a little bit.
You have to find people that want what you offer.
Usually, people start their business because they see a gap. Some may offer the same services, but you think there's a better way to do it. Or you had a problem that no business in town could solve, so you started one to fulfill your needs and others that had the same problem.
For many businesses, often times the owner is the first customer. There was a problem or an issue that made you start this, and the way you get customers is if other people with the same problem find you.
Who you want as a customer, your target market, are people like you that need the same solution.
As Seth Godin says, "People like us do things like this."
These are the people you want to find on the internet. People like you that are searching for a solution you know you can solve.
Don't waste your time marketing to everyone. Most people don't have the same problems as you, or don't care about it.
Use your website and social media to talk to people about the same problems you had and how you fixed it with your business.
Generate personal stories and build a relationship with the people that want to solve the same problems.
The people that care will contact you, the people that don't will not and that's okay.
People like us do things like this.
The law of raspberry jam
This is a law that you need to familiarize yourself with for digital content, or anything in marketing really.
People in the marketing industry may call it different names, but I really like the way Jerry Weinberg describes it.
In his book, The Secrets of Consulting, he describes it in a very concise way:
"The wider you spread it, the thinner it gets."
The more you want to do online, you want to be everywhere and reach everyone, the thinner your marketing will be.
Just like raspberry jam.
The more you spread that jam around your piece of toast, the thinner it gets.
Take a look at the following list and tell me if you relate to any of these:
Your target market is anyone (no idea who)
Your product doesn't solve or solves a not-so-pressing problem for your clients
Just a fuzzy idea of who your ideal client might be
You try a new marketing channel each month (or week)
If you relate to any of them… your marketing is too thin.
These are essential marketing items that will help you grow your business, and you should instead be saying things like this:
You have a narrow, specific target market
A specific problem that you solve for your clients
An ideal client that you're trying to get in touch with
Specific marketing channels you're consistently using to reach your target market
The more you spread your marketing, the thinner your marketing gets.
Now that you are online, resist the urge to start everything just because your competition is there. Start on what you can afford with your current situation. If you don't have much time, don't go around opening social media accounts everywhere that will never get used.
Use your resources effectively, know your target audience and which online channels they frequent. Know what your clients and prospects want to hear from you and focus on them.
Once you have more jam (resources like time and money), you can start spreading your marketing more effectively and grow quicker.
Digital marketing basics
Most businesses are so busy yelling about their average stuff online, so busy hustling for an edge, that they fail to realize that the most powerful option is to create an experience (a product, a service) that people want to talk about.
Digital marketing is the use of the internet, mobile devices, social media, search engines, and other online channels to reach potential clients.
You should be thinking of your online presence as an experience. What does your website look like from the point of view of someone that doesn't know anything about you? What does your social media say about you? Are people happy with you or are you good at what you do?
These simple questions will help you create a base to provide a better online experience. The better the experience, the more likely they will become clients and/or will tell other people about you.
For this, I am running under the assumption that you have at least recently created a new website and new social media accounts. I won't get into the nitty gritty of it, just a basic overview of the basic concepts most businesses miss about digital marketing.
With that in place, you should be looking at how you are going to measure the success of them.
Measure your digital marketing efforts
Online marketing isn't a "build it and they will come" type of thing.
You have to work at it — you have to connect, promote, and plan campaigns consistently and effectively.
Otherwise it's just a waste of time and money.
Make sure you are aware of the reporting features of social media, as well as getting Google Analytics for your website. Without these basic tools, you won't know if anything you are doing is working properly.
Consistency is the name of the game
Be consistent in your brand message, in your goal, in the amount of social posts you do, in your website, everything.
People online have small attention spans. You want people to come to expect things from you, like how great you are at educating them, or the awesome pictures of animals you post. You want to become a habit for people so you stay in their head when they are ready to buy.
Make sure this translates to your website too. The way to attract organic traffic to your website is to consistently have content you are putting out so Google knows what you do.
Optimize to be found on Google (SEO)
Create blogs or pages with a lot of information about what you do, how you do, and why you do it. SEO (search engine optimization) is incredibly complex, but one thing that holds true every time is that a website with no content can't rank on many searches.
Google will never know what you do if you don't write about it. Google, and people for that matter, use your website as a way of understanding what you do.
If you don't talk enough about what you do, Google will assume you aren't worth ranking well compared to another website that does.
I know this is a lot of information thrown at you. The concepts are broad and you're probably thinking "okay so what do I do, where do I even start".
Don't worry, on the next page I will break down all the steps and help you navigate all of this information.
We'll dive deeper into my 6 day Local Digital Marketing email course. In it we will go into specific details about SEO, social media, email marketing tips, and a lot more that your business can do to increase local traffic.
You don't have to be a tech wizard to understand it and best of all:
It's free.
It doesn't cost anything but your attention. It's built for small businesses looking to get local clients online.
Who is Jiun Liao?
Jiun Liao
Strategic Marketing Consultant
Hi! I'm Jiun. I run Lobo Media Marketing, a no-fluff consulting company in Orillia that helps businesses create marketing strategies for long term growth. My style of marketing is relationship based, honest, and actionable. None of this shady, "in your face" marketing. I've been in marketing for over 5 years helping many companies change the way they view marketing to generate long lasting loyal customers.