The reason why people choose to advertise online is simple. You can track and measure with pinpoint precision across your campaigns which let's you know whether you are doing well or if improvements are needed. Another reason is because you can get results (and data) almost immediately.
There is one thing that I'd like to be clear on: there's no such thing as free traffic.
All online traffic is paid traffic. You either spend money or time.
If you are looking to spend your time, then you are more likely to try organic SEO (Search Engine Optimization), word of mouth, etc. to improve your traffic over time.
Or if you don't want to spend your time, then digital advertising (PPC, Display, etc.) makes the most sense. That's where we come in.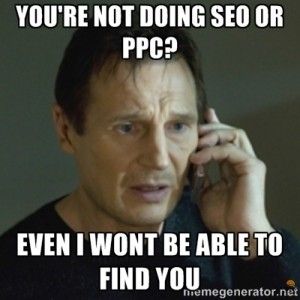 If you have an existing business with paying customers, your prospective customers are accessible online, and you are results/outcome-focused, it's very likely we can help you grow your business reliably and predictably.
Now I know what you're thinking.
Who says "it's very likely I can help you grow your business"? Shouldn't I tell you "I can help you CRUSH your digital advertising", or "I can grow your business 10x in 30 days".
That's just not us, and we want to be completely transparent about that. Business success is a process, not an event. In our experience success is step by step, day by day, and it is built on a foundation of intelligent strategy and consistent execution.
It's simple, but not easy.
It's easier to explain what we do in a phone call or via Zoom to fully understand the scope, but we have outlined below a simple summary of how we can help:
what we do that's similar to other ad agencies
Manage your ad accounts according to your goals and your budget
Provide monthly reports on performance and further improvements
Platforms we support:

Google Ads (formerly known as Google Adwords)
Facebook Ads

Services may include:

PPC Ads (Pay-Per-Click)
Display Advertising (ads with images and videos)
Remarketing Ads
Cost-Per-Click Optimization
A/B Testing
Conversion Tracking
what we do that's completely different
We do not "productize" our services.
Every estimate for a project will feature strategies and services tailored to each client's needs and goals. We don't believe businesses can benefit from a cookie cutter service as every industry and desired result is different.
We are results/outcome focused and we show it in our reports.
Most agencies provide a slew of confusing numbers that most people outside the marketing world don't understand and with no explanation. We focus and report on your goal only. The rest of the numbers are for us to understand. If your goal is 100 clients, we report how many we have gotten and whether we are on target and what are we doing to get it. That's it.
We believe in a saying: "framework before work".
We develop a strategy that's best suited for you before we even turn on any ads. This reduces the budget waste and focuses everything towards the goal.
We optimize for happy long-term customers.
Almost anybody can create leads that never respond and website traffic that never converts. We instead dive deep into the journey of your potential online clients and optimize it so they WANT to work with you instead of you trying to convince them to. We use ads to help you find the people that believe what you believe and want what you offer in the right place at the right time.
If you would like to work with us to develop your digital advertising strategy, let's hop on a 30 minute Zoom and start the process:
New to digital advertising?